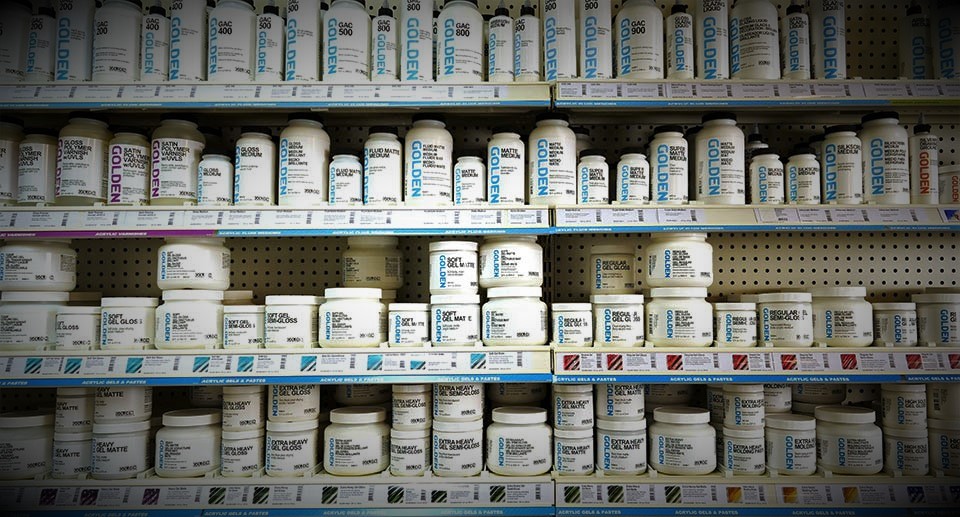 The world of products that can be added to acrylics to modify them for many different purposes can be a strange and confusing place. We understand that they essentially look like white products in white jars with white labels and it can be hard to understand why we have so many and what each of them do.
We have a lot of resources explaining the attributes of these products individually so will not go into every product here, but will concentrate on the difference between Mediums and Additives because the difference is a big one and especially using a product in the "Additives" category incorrectly could result in issues with the stability of your painting.
First let's define these terms.
What is a Medium? A medium is a complete and balanced formulation that contains an acrylic resin or "binder" and can be used on its own or added to acrylic paint or other mediums to extend paint or to change its working properties. The most important thing to mention is there is no danger of adding too much or too little medium into your paint and the medium can be used on its own. It can be helpful to think of them as paint without pigment. Mediums can be mixed with paint or other mediums, they can be mixed together, layered with paint or other mediums and can be used as a size for canvas or a ground for painting with many painting materials. There aren't many rules when using most acrylics, which lessens the worry of using them incorrectly.
What is an Additive? An additive is a product that needs to be "added to" something. Under no circumstances should an additive be used on its own; it always needs to be mixed into a paint or medium. An Additive is volatile, meaning it will evaporate completely from the film during the curing process. Additives impart a different quality to the paint and each one has a very specific use. Some additives are more like raw materials and do not contain any binder. It is important to follow the maximum addition recommendations on the label.
Types of Acrylic Mediums:
Fluid Mediums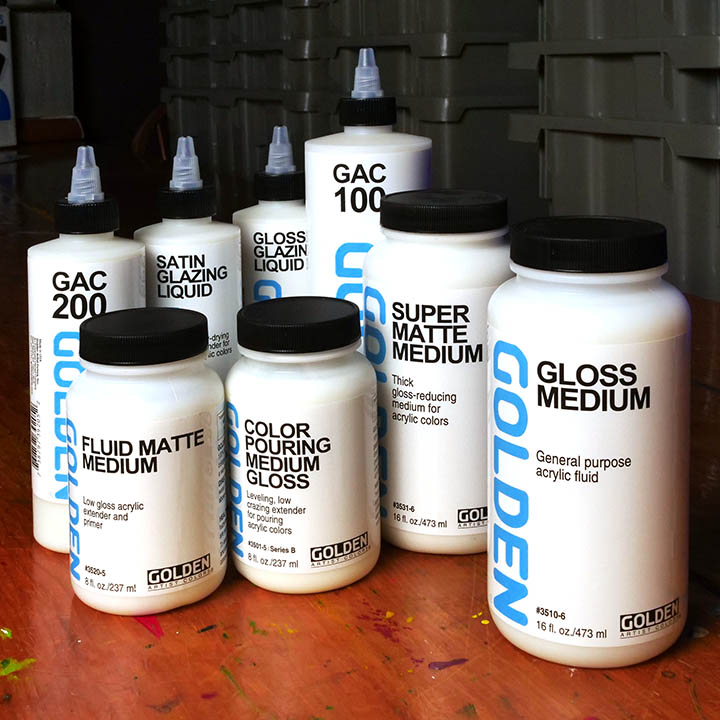 GOLDEN makes a differentiation between a Medium, a Gel and a Paste on our labels. In truth, they are all painting mediums as a broad category. When the product is called a "Medium" on the label, it means it is a fluid product. This is signified by a light blue "GOLDEN" logo on the label. Fluid Mediums are thin and leveling. The products in the "Fluid Mediums" category include the GAC Specialty Polymers, Gloss Medium, Matte Medium, Fluid Matte Medium, Color Pouring Mediums, Glazing Liquids, OPEN Mediums, Silkscreen Medium and High Flow Medium.
Gel Mediums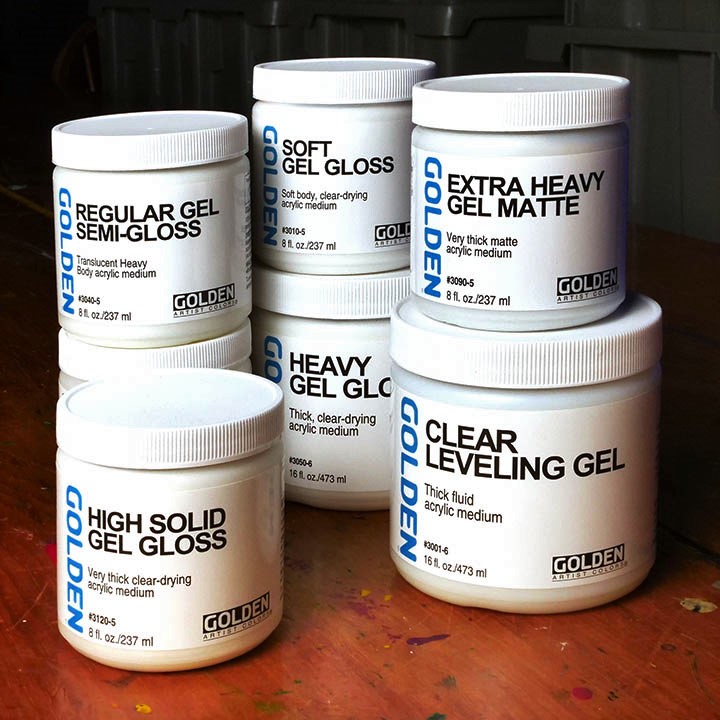 When a product is called a "Gel" on a the label, it is a thicker or more viscous product. Gels have a medium blue "GOLDEN" logo on the label. Gels range from syrupy to very thick and from smooth to heavy texture. Gels are generally used as textures or to build texture or body into the acrylic paints. Gels can be translucent, opaque or somewhere between. They are available in Gloss, Semi-Gloss and Matte sheens. The products in the Gels category include Soft, Regular, Heavy and Extra Heavy Gels, High Solid Gels, Clear Leveling Gel, Clear Tar Gel, OPEN Gels and aggregate gels like Glass Bead Gel, Clear Granular Gel and Pumice Gels.
Pastes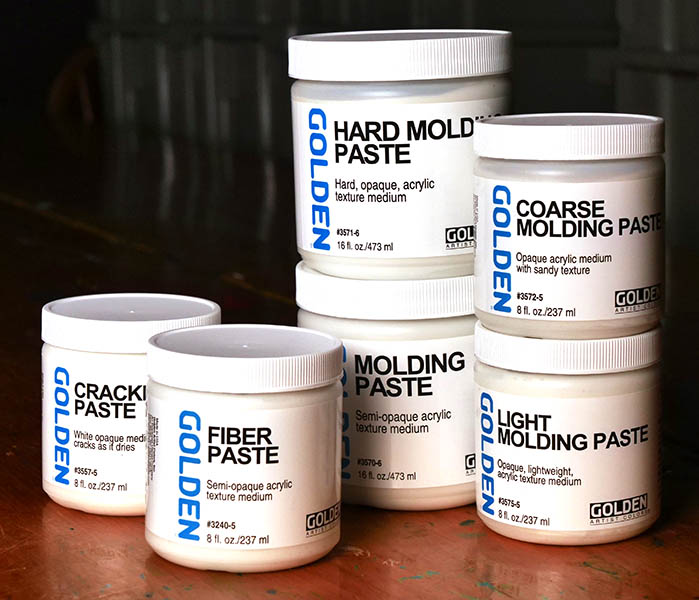 When a product is called a "Paste" on the label, it is a thick, textural material and more opaque when dry. It can be helpful to think of them as opaque gels. Pastes can build high textures and are often used as painting grounds. Pastes also have a medium blue "GOLDEN" logo on the label. The products in the Pastes category include Molding Pastes, Crackle Paste and Fiber Paste.
Attributes and Uses of Acrylic Mediums
Mediums can be used to alter the sheen, viscosity, feel, behavior, thickness, hardness, texture, dry time or the purpose when added to acrylic paint. They can also be used to add or reduce opacity or transparency, as a collage adhesive for image transfers, prepare a ground, etc.
The way to best describe the differences in these many offerings is with two words, which are a bit of technical speak; Viscosity and Rheology. Viscosity describes whether the acrylic is thick or thin. A low viscosity is thin, like water and a high viscosity is thick, like tar. Rheology, describes the flow and is long or short. A long rheology means the acrylic formulation is stringy like syrup. A short rheology means that instead of having a continuous stream when pouring from a container, it will drip or plop. The longest rheology mediums we have are Clear Leveling Gel and Clear Tar Gel, which drizzle off a palette knife when dipped into a container. The Clear Leveling Gel's drizzle will level and not hold on to that texture, while the Clear Tar Gel will hold on to that drizzle ridge. A medium can also be thinner, but have a long rheology, like Gloss Medium. The Soft, Regular, Heavy and Extra Heavy Gels, along with the pastes, all have a short rheology. They are buttery and plop off a palette knife. A thin medium that has a short rheology is GAC 100, which would pour from the container in short drips. Adding a medium to paint can change how it feels, the way it performs and moves and how it behaves on the brush. When beginner painters contact us and ask about mediums, I often suggest, first get used to the paint by itself and only start looking into mediums if the paint is not doing something they want.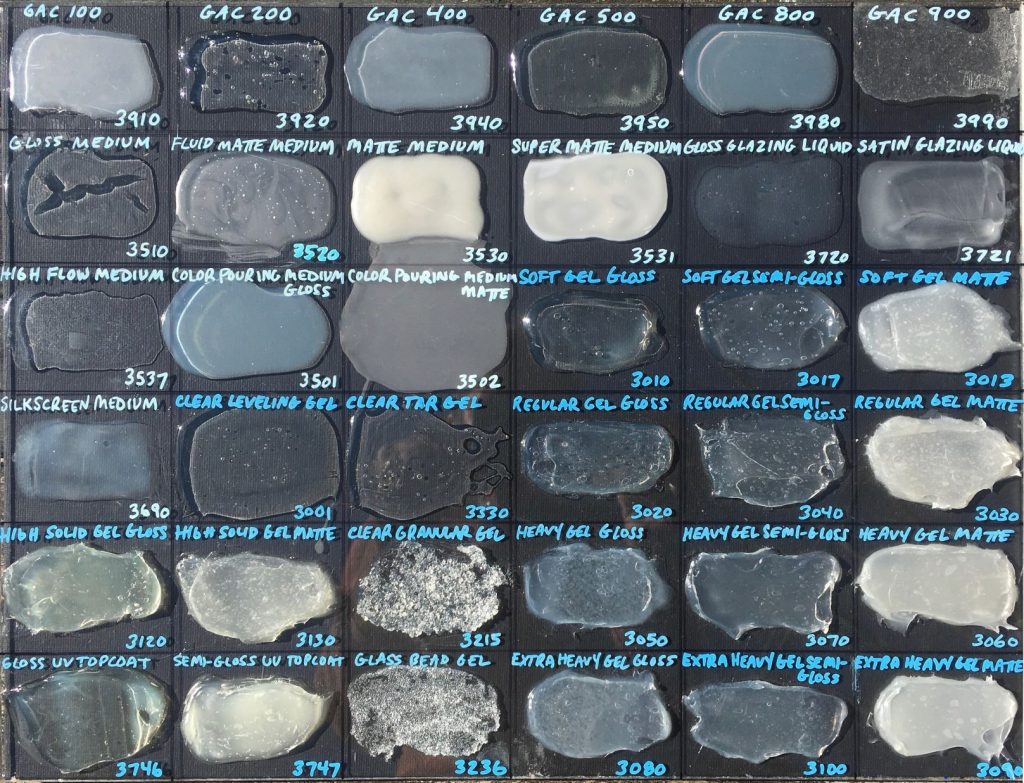 Adding a medium, gel or water into acrylic paint will add translucency by lowering the pigment load. Most acrylic binders are clear and glossy by nature, so in order to make semi-gloss, satin or matte mediums, we need to add matting solids to the formulation to make the binder more matte. Matting solids tend to add a hazy or whitish appearance and will dry translucent, not clear. Only gloss mediums have the ability to dry clear. The acrylic resin is also milky in the wet state, which accounts for a wet to dry color shift that occurs in acrylic paints and mediums. Because they appear white when wet, this can trick you into thinking there is some white in your mix and when it clarifies upon drying, it will darken the color. It can be helpful to mix your colors a step lighter than you want so it closely matches the intended color when dry. It can also be useful to paint out a swatch and let dry before applying to your painting to get an accurate idea of what it will look like when dry, especially if trying to match a color already applied to the painting. Mediums, Gels and Pastes will also shrink upon drying.
If thinning out a paint is desired, try adding a medium that is thinner than the paint and the reverse can be used if a thicker paint is the goal. Our Regular Gel is the same consistency as the Heavy Body Acrylics, so if thickening up the paint is desired, adding Heavy Gel, Extra Heavy Gel, Extra Heavy Molding Paste or High Solid Gel could be used. Extra Heavy Gel and High Solid Gel have about the same thickness, but are very different in feel. The High Solid Gel has a more slick and oil-like feel to it. GAC 500 is the same consistency as our Fluid Acrylics, so essentially a clear Fluid Acrylic paint and High Flow Medium is the same consistency as the High Flow acrylics and is our thinnest medium, as the High Flow Acrylics are our thinnest paint formulation and have an ink-like consistency.
We also have mediums that have a special purpose, like the GAC numbered mediums; GAC 200, which dries to our hardest paint film and GAC 400, which is a fabric stiffener, GAC 800, which is a pouring medium, GAC 900, which is a wearable fabric heat set medium or Silkscreen Medium, etc.
While mediums can be used to adjust the sheen of the paints occasionally, this is often a misconception. Adding a matte or gloss medium to a paint will change the sheen a bit, but the truth is, you would need to add so much medium into the paint to dramatically shift the sheen that it would be a very translucent layer. It would be mostly medium and just a touch of paint. This can be very useful when making a glaze, but not very useful if simply trying to change the sheen. The medium that works the best for making a paint more matte is the Super Matte Medium, which contains as many matting solids as we can fit into a formulation, while still maintaining the stability of that film. If we were to add more solids, it would become overloaded and cause the film to crack. More Information About Mediums
Attributes and Uses of Additives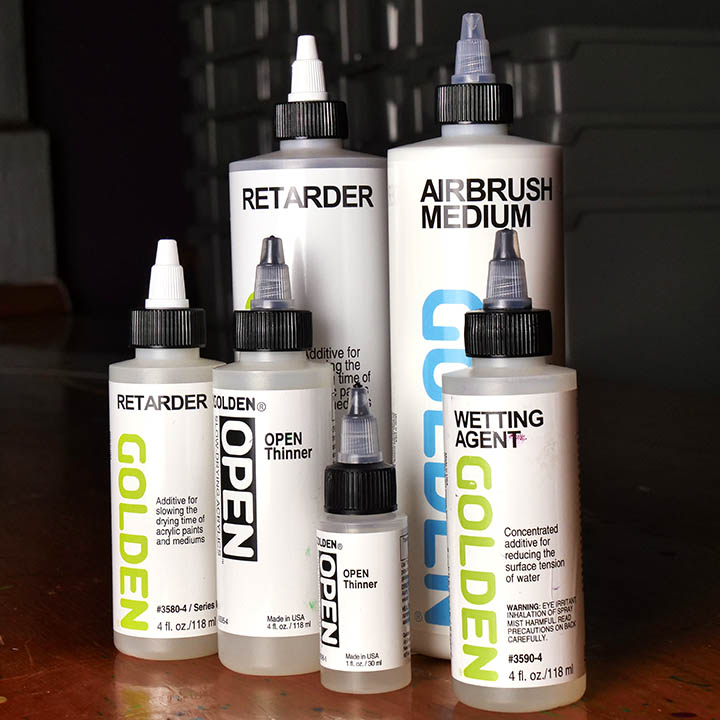 As we mentioned above, Additives must be added to a paint or medium and should not be used on their own. The Additives will evaporate during the curing process, so are really only used to alter the working properties of paints and mediums. They can be added to slow down the dry time, absorb into a surface more easily or transform its use completely. Additives are indicated with a green "GOLDEN" logo on the label. We do not carry that many Additives, so we will list them and their uses here.
Retarder, when added to a paint or medium, can slow down the drying and provide more working time. The addition of Retarder should not exceed 15% of the total mixture. If too much Retarder is added, the film may never dry properly and remain sticky. Using an additive to slow down the dry time of the paint will impart fewer changes to the final appearance than if using a medium for the same purpose.
OPEN Thinner is similar to Retarder in slowing down the dry time when added to a paint or medium. OPEN Thinner was designed to thin the consistency of the OPEN Acrylic paints, while maintaining its long working time, but if used with the faster drying paint lines and mediums, can slow down their dry time. The addition of OPEN Thinner should not exceed 25% of the total mixture or the paint may never dry properly and remain sticky.
Wetting Agent and Wetting Aid are surfactants, which is a "surface acting agent". They are used to wet out pigments before adding to the acrylic resin when making paint and generally breaks surface tension. Wetting Agent and Wetting Aid are very useful with staining techniques and helps the paint absorb into surfaces better. This should always be added to water before using and never added directly into paint. It is a very concentrated product and only a small amount should be added to the water. That water can be used to wet the canvas before a stain application or can be added to paint if the paint is resisting, reticulating or crawling on the surface. If you add too much surfactant to the paint or water it can migrate to the surface over time and can feel sticky and foam, as essentially surfactants are soaps.
Airbrush Medium is used to thin down thicker paints to use through an airbrush. We must address the term "Medium" in its title, as this is really a misnomer. While there is a small amount of the acrylic binder in this product, it is really an additive and should not be used on its own. That being said, aside from thinning paints for spraying, Airbrush Medium could be added to paint to slow down the drying a bit, add translucency and increase the flow.
Water is really considered an additive and a solvent. It is obviously an ingredient in all of our water based paints and mediums. It could be used to thin down paints, in a wash, or to add translucency. Of course the water will fully evaporate. Adding water can hasten the drying time of the paints and mediums. There seems to be a misunderstanding out there that is it bad to add water to acrylics, this is not so. It is perfectly fine to add water to acrylics. The only lookout if adding too much water, meaning the mixture is mostly water and just a small amount of a paint or medium, is the film can become water sensitive, or water soluble like watercolors. So if you applied another water based medium or paint on top of an overthinned paint, you could see some color bleed into that wet medium or paint. The addition of a lot of water basically means the acrylic binder has been thinned down and there is now more water in the paint than binder, so there is not much left holding down the pigment, which is why the color can lift.
To summarize, the biggest difference between Mediums and Additives is that a Medium can be used on its own. There is no danger of using too much or too little of a medium. Additives need to be added to something and should not be used on their own. So when reaching to the shelves to figure out which is the best product to use for your particular project, consider how much you would like or need to change the paint. Sometimes a big change is the goal and sometimes the least change is the best outcome.

Stacy Brock, Supervisor of Materials & Applications Department, Painter, Ceramicist, Musician. stacybrock.com